Help your patients quit! Learn about cessation resources, literature, clinic workflow implementation plans and provider training available through Penn State Health and other organizations.
Literature, Posters and Patient Handouts
Expand answer
Penn State Health Literature
The Penn State Health Print Shop has Penn State branded pamphlets that can be distributed to patients. The Penn State Health Tobacco Cessation Brochure helps patients to list reasons why they want to quit and identify their support system. It also includes tips for creating a quit plan, managing cravings, and where patients can seek help. It is designed to be distributed to patients or guide a brief tobacco cessation intervention during an office visit. Ordering can be done via the Infonet (Penn State Health ePass login required).
PA Quitline
PA Quitline has a number of free pamphlets, postcards, rack cards, flyers, business cards, and posters available for clinics to order and distribute to patients that can be shipped to clinics at no cost. They also offer literature in many languages, including both Spanish and Nepali (among many others). Current options in English (with photos) can be found on the order form linked from the website. Materials can be requested for free by emailing the order form to RA-DHPAFreeQuitline@pa.gov.
Asian Smokers Quitline
The Asian Smokers Quitline has a host of free literature, posters and flyers in traditional and simplified Chinese as well as Vietnamese and Korean. This organization is separate from PA Quitline and will provide many of the same services in Mandarin, Cantonese, Vietnamese or Korean for non-English or Spanish-speaking patients.
University of Wisconsin Center for Tobacco Research and Intervention
The University of Wisconsin Center for Tobacco Research and Intervention has excellent information for those interested in quitting smoking or stopping e-cigarettes and covers the 7 FDA approved medications for smoking cessation, including how they work and common side effects.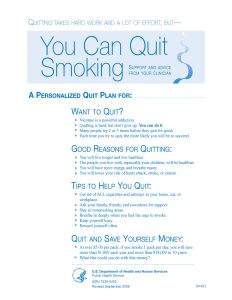 Agency for Healthcare Research and Quality Worksheets
These worksheets are designed to be filled out with patients to quickly help them identify barriers to and resources they can utilize to help them quit.
In addition to the standard version, a version is specifically for expecting mothers. Versions en español of the standard and expecting mother worksheet are available.
The Agency for Healthcare Research and Quality Worksheets also has a hospital tobacco cessation poster [PDF download from AHRQ].
University of California San Francisco's (UCSF) Rx for Change
UCSF's Rx for Change program includes a variety of specialty specific (cardiology, psychiatry, surgical care, respiratory care) online modules that include both self-directed PowerPoint presentations as well as virtual patient exercises. The website allows for free registration and use of materials. It also includes patient friendly literature on topics including formulating a quit plan, medication information, and full clinic tobacco cessation implementation toolkits.
My Life, My Quit
The My Life, My Quit Youth Tobacco and Vaping Cessation program has free brochures and posters you can print yourself on their website or you can request printed versions from PA Quitline to be mailed to you for free using the email address in the PA Quitline tab. They also have a marketing/media toolkit available by emailing healthinitiatives@njhealth.org.
Implementing Tobacco Cessation and Screening Interventions
Expand answer
A Practical Guide to Help Your Patients Quit Using Tobacco (CDC)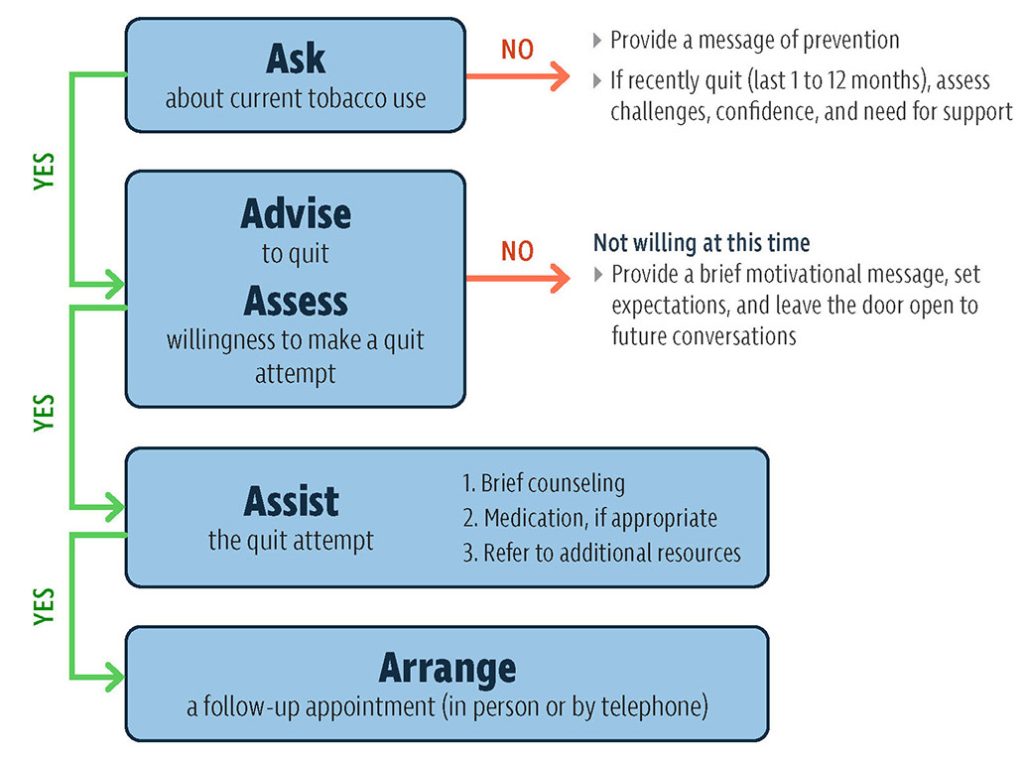 This four-page guide is full of visuals providing a brief overview of how to screen patients for tobacco use and to provide a brief intervention. The guide is geared towards providers and clinic leaders. Download the guide from the CDC's Clinical Cessation Tools page.
Protocol for Identifying and Treating Patients Who Use Tobacco (HHS)
The Protocol for Identifying and Treating Patients Who Use Tobacco is a fillable template for implementing tobacco use screening and includes applicable billing codes. Download the protocol from the HHS Million Hearts website.
comprehensive manual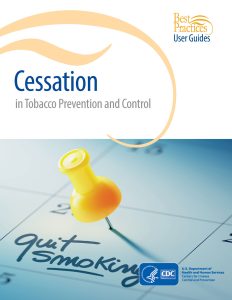 Best Practices User Guides: Cessation in Tobacco Prevention and Control (CDC, 2016)
This comprehensive manual [PDF download from CDC] provides an overview of the evidence for providing tobacco cessation and interventions at the individual and statewide level.
University of Wisconsin Center for Tobacco Research and Intervention
The UW Center for Tobacco Research and Intervention has a variety of great resources.
Tobacco Health Systems Change Starter Toolkit for Clinics
(Clear Way Minnesota, Institute for Clinical Systems Improvement, 2018)
This document contains the rationale for starting a clinic intervention as well as tools and templates for creating a SMART Goal, establishing performance metrics, workflows and case studies. [PDF download from chronicdisease.org]
Treating tobacco dependence practice manual a systems-change approach
(American Academy of Family Physicians, 2017)
This 24-page guide created by the Academy of Family Physicians outlines strategies to create systems change including how to evaluate current clinic workflow, introduce a cessation intervention, provide motivational interviewing and pharmacotherapy, and bill for cessation activities. Download the guide on this aafp.org page under Toolkits and Manuals.
Billing Guide for Tobacco Screening and Cessation
(American Lung Association, 2021)
This 16-page guide is a quick read and provides a comprehensive overview regarding billing and documentation requirements for cessation activities, including common reasons for claims denials. Find the guide at Lung.org under Billing, Coding and Payment.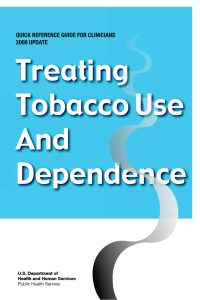 Treating Tobacco Use and Dependence: 2008 Update
(Public Health Service, 2008)
The Treating Tobacco Use and Dependence: 2008 Update is the current basis for most tobacco cessation recommendations. There is also a shorter summary as well as a quick reference guide for clinicians [PDF download from AHRQ].
Healthcare provider reminder systems, provider education, and patient education: working with healthcare delivery systems to improve the delivery of tobacco-use treatment to patients: an action guide
(Partnership for Prevention / National Center for Chronic Disease Prevention and Health Promotion (U.S.), 2009)
This manual is described as "An Action Guide which describes the process of implementing tobacco dependence treatment within health care systems by developing systems change strategies including provider reminder systems, provider education and patient education."
A Guide to Facilitating Health Systems Change (CDC)
"The purpose of this guide is to help states facilitate changes in health care systems to improve prevention and management of heart disease and stroke and their risk factors. The guide was developed with the idea that state health departments can facilitate such changes by involving a diverse group of health care partners to assess the state of heart disease and stroke prevention and management, to identify changes that are needed to improve the quality of care, and to determine how best to make those changes. The goal of this guide is to provide advice to state heart disease and stroke prevention programs in encouraging the adoption of established models to improve the quality of care and outcomes for patients with cardiovascular disease (CVD) or its risk factors. Programs should review the entire guide to determine which sections and resources are most appropriate for them, given the current environment for systems change within their state. This guide includes samples of tools states have developed to assist with program planning, implementation, and evaluation activities within the health care system. The tools provided at the end of each section can be altered or augmented to meet organizational and partner needs." Download the Guide to Facilitating Health Systems Change here.