Pure is the name of an application by the company Elsevier that stores and allows retrieval of information on investigators, research units and research output (such as publications). Penn State Research Portal is the University's implementation of Pure.
The system captures and displays the research output of the University, both for investigators and units. Research information is aggregated from internal and external sources. The Pure portal is fully accessible to the public, and enhances the visibility and discoverability of research at Penn State, both internally and externally.
View and Search Pure Request a Profile Update Email the Pure team
Spread the Word about Pure
The Pure team has worked to create several flyers promoting Pure that can be printed and hung in work areas. Click each image to open the file in Sharepoint (Penn State Access ID login required), where it can be printed.
Updating Your Pure Profile
Learn More About Pure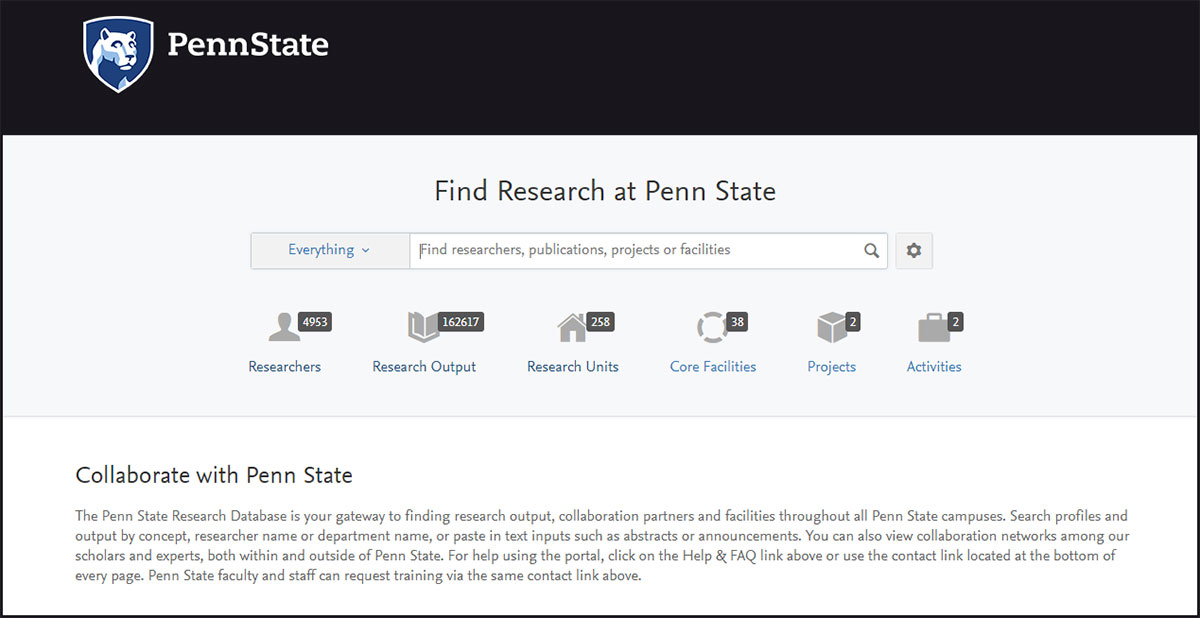 Who is included in the Pure portal?
Expand answer
Approximately 5,500 faculty researchers across all Penn State colleges and campuses are included in Pure, with 1,300 profiles available for College of Medicine use.
The Office of the Vice Dean for Research and Graduate Studies contributed additional funding beyond the University's allocation to allow for the inclusion of additional College of Medicine faculty members.
If you are a faculty member in the College of Medicine and believe you should be added to the portal, please contact the College's Pure team.
What can I do with the Pure portal?
Expand answer
Search for Collaborators by Topic
Enter a keyword into the Pure search box to see researchers, research outputs or research units affiliated with that topic.
Analyze a Block of Text and Find Researchers
If you have a block of text, such as an abstract or concept paper (or a funding announcement), and want to find potential collaborators, Pure offers the ability to search based on that text.
Click the gear icon next to the search box and choose "Copy/paste text – find expertise."

See Research Output and Metrics
Within Pure, you can see a researcher's recent publications, and view article metrics such as citations, news mentions or social media references.
Simply search for the researcher's name (full or last), select the appropriate profile, and choose "Research Output."
Search for External Collaborators
You can also search for researchers at non-Penn State institutions who use the Pure tool.
From the main screen, choose "Researchers." In the search box on this page, enter a topic, then click the option at right to "Include results from Experts Community."
You will see a list of other researchers in Pure with work on that topic.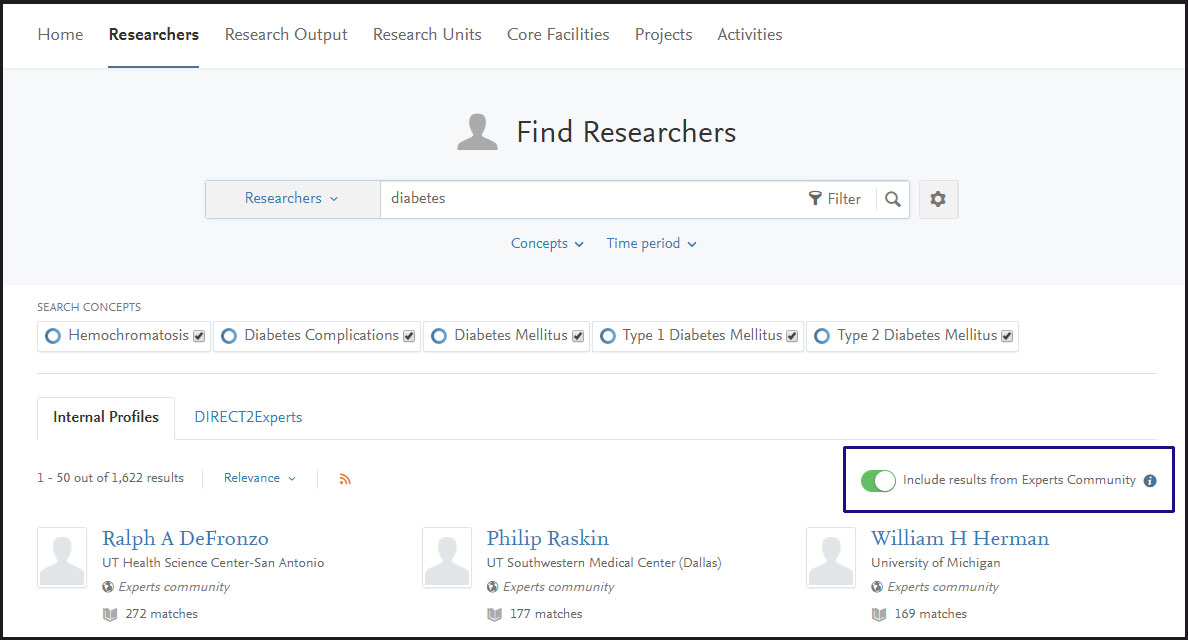 How does Pure populate profiles?
Expand answer
Names, current rank, some titles, contact information and primary department are populated from Penn State records and other internal sources.
Research output and citation counts are captured from Scopus (Elsevier).
"Fingerprints," or key topics, are associated with each profile, generated by Elsevier based on a researcher's output.
Social media mentions are noted through PlumX and Altmetric.
How often is information in Pure updated?
Expand answer
Social media analytics (PlumX and Altmetric) are updated daily.
Publications are updated weekly (once a profile is established).
Citation data are updated monthly.
Data from Penn State is updated on a semi-annual basis.
How reliable are Pure data?
Expand answer
Pure includes feeds from Scopus (Elsevier) as well as manual entry of scholarly output and activities not captured by Scopus. While efforts are made by Elsevier and the College of Medicine Pure team to account for accuracy in the data, it is possible to have missing publications as well as publications not authored by a faculty member in question.
Available publication and citation data are limited by the indexing policies of Elsevier at the time of publication. Citation data will likely vary from Web of Science or Google Scholar statistics. Manual entries of publications will not contain citation counts in Pure.
Contact the College of Medicine's Pure team with specific data questions.
Why might my data be different in Pure than in Google Scholar?
Expand answer
Google Scholar is an open-access way of distributing information about scholarship.
However, the absence of quality control in this tool is an issue. Sometimes a publication will show up in Google Scholar more than once, in subtly different ways, and this seems to be more true with a highly cited publications. This can amplify the citation count seen in Google Scholar to be much higher than what you will see through Pure, which uses the Scopus-based H-index.
The Scopus-generated H-index is more reliable, and will generally be lower for every investigator than their Google Scholar H-index.
Advantages of Google Scholar
Coverage/content and citation counts are broader than those covered by Scopus or Web of Science.
Disadvantages of Google Scholar
Not every faculty member at Penn State has a profile.
Search ability is limited.
Bulk data downloads are not permitted.
Grouping is not possible (seeing all publications for a department, for instance).
Information can not be reused.
Quality control and indexing are lacking (for example, no tagging of top keywords for an investigator).
Any academic-domain document is indexed and can emit and receive citations.
Sources
Halevi, Gali (2017). Suitability of Google Scholar as a source of scientific information and as a source of data for scientific evaluation — Review of the Literature. Journal of informetrics (1751-1577), 11 (3), p. 823.
Delgado Lopez-Cozar, Emilio; Robinson-Garcia, Nicolas; Torres Salinas, Daniel (2012). Manipulating Google Scholar Citations and Google Scholar Metrics: simple, easy and tempting. EC3 Working Papers 6: 29 May, 2012
Who is in charge of the project?
Expand answer
The Pure portal is maintained by the Penn State Office of the Senior Vice President for Research's Analytics and Communications office.
An advisory board comprising multiple groups and units across Penn State assists with decisions regarding Pure strategy and oversight.
The College of Medicine has a team who oversees College data in the system.