---
The Human Research Protection Program (HRPP) integrates the Human Subjects Protection Office (HSPO) and the University Park-based IRB program into one unified, comprehensive IRB program. This transition is already underway, and future communications will refer to the HRPP instead of the HSPO. See details here. (Note: Updates to materials reflecting this change are forthcoming.)
An Institutional Review Board is a federally mandated entity that oversees the protection of human subjects in research. IRBs help mitigate potential risks to participants, including their physical and psychological well-being, confidentiality and privacy and autonomy, among others. At Penn State, an IRB must review all research involving human subjects, and the research cannot begin until the IRB has reached a determination. This is true even if a researcher perceives there are no risks for people who participate in their research.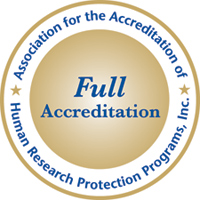 Penn State has one IRB at University Park and five IRBs at the College of Medicine. The HSPO provides administrative support for the IRBs at Penn State College of Medicine and Penn State Health and assists faculty and staff with the requirements to meet ethical and regulatory standards for human research.
In addition, HSPO program staff, who are IRB analysts and IRB coordinators, review certain categories of research on behalf of the IRB. The HSPO reports to the Director of the Office of Research Protections at University Park. The IRB program within the Office for Research Protections provides administrative support for the University Park IRB that oversees human subjects research at all University colleges and campus locations except the College of Medicine and Pennsylvania College of Technology.
In addition, the institution has successfully met the criteria for full accreditation of its human subjects protection program by the Association for the Accreditation of Human Research Protection Programs. This accreditation is valid until 2025. See details here.
All submissions to the IRB are handled through the Centralized Application Tracking System (CATS).