Learn about the benefits of strength training for people with cancer in this guide from The ONE Group (Oncology – Nutrition – Exercise) at Penn State College of Medicine.
What you should know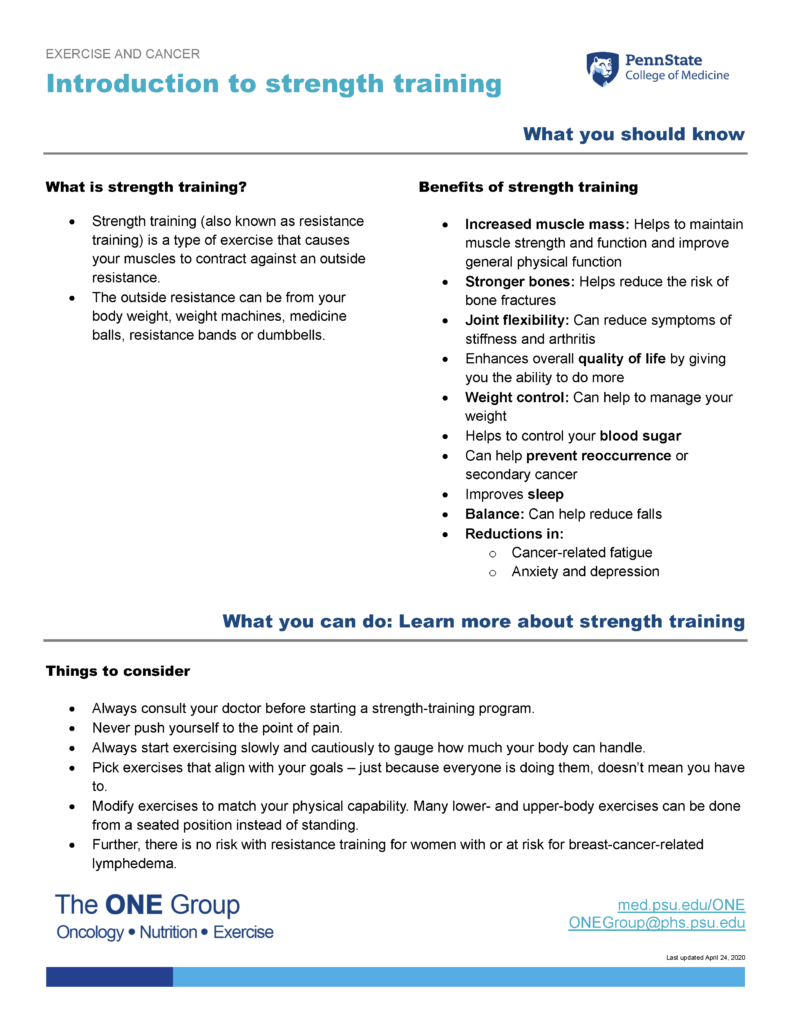 Get a printable version of this guide
What is strength training?
Strength training (also known as resistance training) is a type of exercise that causes your muscles to contract against an outside resistance.
The outside resistance can be from your body weight, weight machines, medicine balls, resistance bands or dumbbells.
Benefits of strength training
Increased muscle mass: Helps to maintain muscle strength and function and improve general physical function
Stronger bones: Helps reduce the risk of bone fractures
Joint flexibility: Can reduce symptoms of stiffness and arthritis
Enhances overall quality of life by giving you the ability to do more
Weight control: Can help to manage your weight
Helps to control your blood sugar
Can help prevent reoccurrence or secondary cancer
Improves sleep
Balance: Can help reduce falls
Reductions in cancer-related fatigue and anxiety and depression
What you can do: Learn more about strength training
Things to consider
Always consult your doctor before starting a strength-training program.
Never push yourself to the point of pain.
Always start exercising slowly and cautiously to gauge how much your body can handle.
Pick exercises that align with your goals – just because everyone is doing them, doesn't mean you have to.
Modify exercises to match your physical capability. Many lower- and upper-body exercises can be done from a seated position instead of standing.
Further, there is no risk with resistance training for women with or at risk for breast-cancer-related lymphedema.
Where do I start?
Find the right time.
Try to dedicate 30 to 60 minutes a day, two days a week.
Pick the right exercise equipment.
Choose between free weights, resistance bands, weight machines, water training or body-weight exercises.
Put together a program.
Select four to six exercises that target different major muscle groups.
Perform two to three sets of eight to 10 repetitions of each exercise.
Try to use a resistance that feels like an "8 out of 10" effort, with 10 being the highest effort you can give.
Set a goal.
To get stronger, try increasing either the weight, number of repetitions, number of sets or number of exercises.
Increase your workload once you feel comfortable with your current program.
How hard should my workout be?
A rating of 0 means that you're not doing any exercise and are resting. A rating of 10 means that your body is working the hardest it can.
As you begin your strength training, try to exert yourself so that you're rating your workout between a 3 and 4.
After you feel you have made some positive progress, try and push yourself so that you're increasing your difficulty rating to the 4 to 6 range. This is called "moderate intensity." At this intensity, you should be able to speak in sentences without becoming completely out of breath.
If at any point you feel any unexpected pain or soreness, decrease the intensity of your exercise session.
A rating of 9 and 10 is excessive.
Intensity scale at a glance
10 – Maximal effort – as hard as you have ever worked
9
8 – Very hard
7 – Moderately hard
6
5 – Hard
4 – Somewhat hard (starting to breathe harder)
3 – Moderate
2 – Somewhat easy – like walking around your home
1 – Very easy
0 – At rest
Where can I find more information about aerobic and strength-training exercises?
If you are interested in starting aerobic and/or strength-training exercises, The ONE Group (Oncology – Nutrition – Exercise) provides videos demonstrating proper form for more than 50 exercises.
Notes
References
American Cancer Society
American Institute for Cancer Research
National Cancer Institute