Learn about quality of life in people with cancer in this guide from The ONE Group (Oncology – Nutrition – Exercise) at Penn State College of Medicine.
What you should know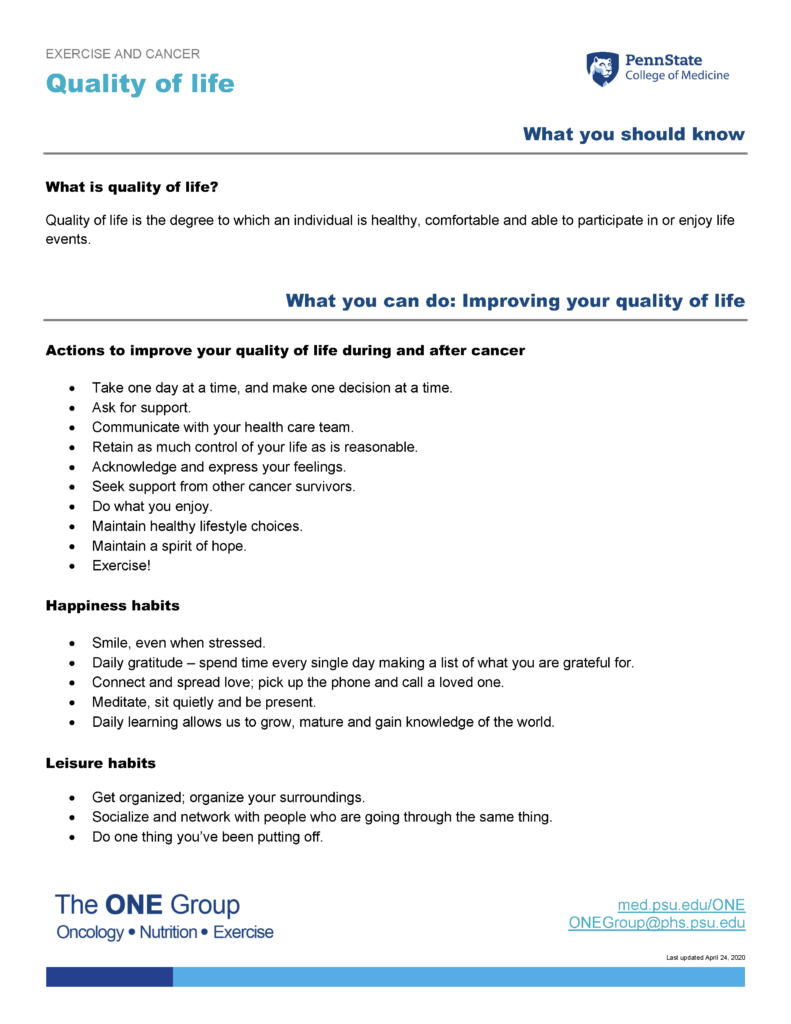 Get a printable version of this guide
What is quality of life?
Quality of life is the degree to which an individual is healthy, comfortable and able to participate in or enjoy life events.
What you can do: Improving your quality of life
Actions to improve your quality of life during and after cancer
Take one day at a time, and make one decision at a time.
Ask for support.
Communicate with your health care team.
Retain as much control of your life as is reasonable.
Acknowledge and express your feelings.
Seek support from other cancer survivors.
Do what you enjoy.
Maintain healthy lifestyle choices.
Maintain a spirit of hope.
Exercise!
Happiness habits
Smile, even when stressed.
Daily gratitude – spend time every single day making a list of what you are grateful for.
Connect and spread love; pick up the phone and call a loved one.
Meditate, sit quietly and be present.
Daily learning allows us to grow, mature and gain knowledge of the world.
Leisure habits
Get organized; organize your surroundings.
Socialize and network with people who are going through the same thing.
Do one thing you've been putting off.
Health habits
Eat breakfast; it is the most important meal of the day.
Move more, sit less.
Drink eight cups of water daily; it has many health benefits.
Vitality habits
Time management – effectively manage your time by writing down what needs to be done.
Get at least seven hours of sleep; give the body enough time to unwind and recharge.
Eat green foods.
Maintain a healthy weight.
Exercise for at least 30 minutes a day.
Exercises to help improve quality of life
Jogging
Walking
Dancing
Bicycling
Yoga
Resistance-band exercises – make sure to use a light resistance band
Strength training
Aerobic exercise classes
Where can I find more information about aerobic and strength-training exercises?
If you are interested in starting aerobic and/or strength-training exercises, The ONE Group (Oncology – Nutrition – Exercise) provides videos demonstrating proper form for more than 50 exercises.
Notes
References
American Cancer Society
Cancer Support Community