Learn about mucositis (mouth pain and sores) in people with cancer in this guide from The ONE Group (Oncology – Nutrition – Exercise) at Penn State College of Medicine.
What you should know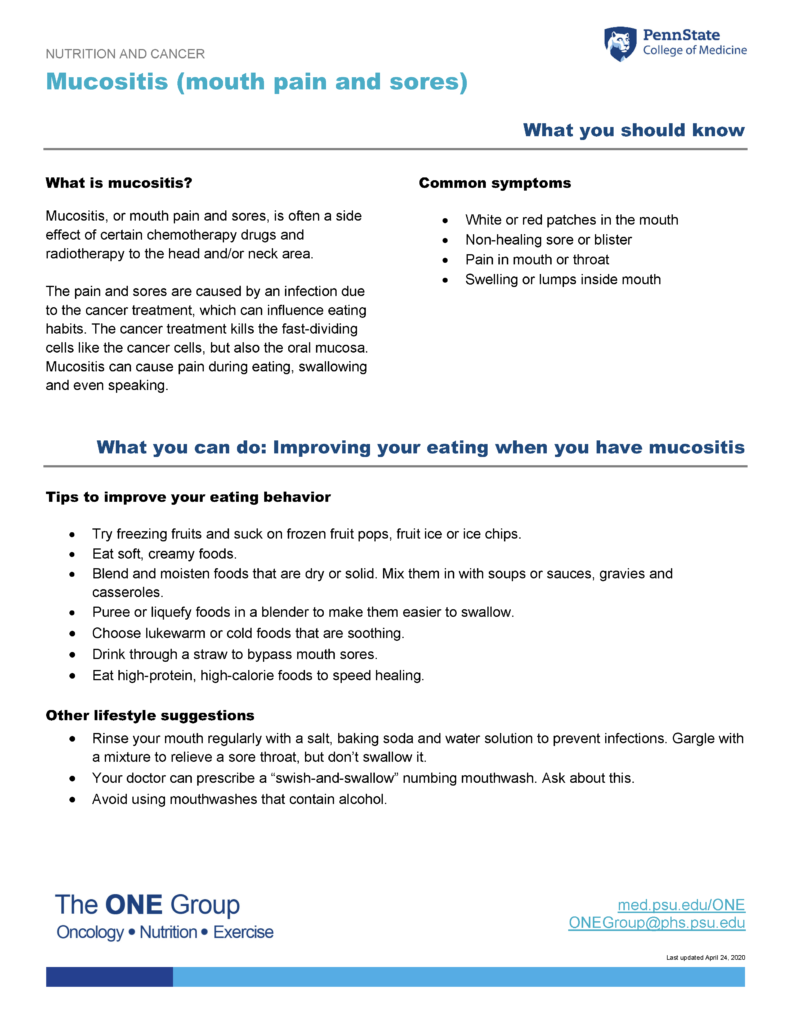 Get a printable version of this guide
What is mucositis?
Mucositis, or mouth pain and sores, is often a side effect of certain chemotherapy drugs and radiotherapy to the head and/or neck area.
The pain and sores are caused by an infection due to the cancer treatment, which can influence eating habits. The cancer treatment kills the fast-dividing cells like the cancer cells, but also the oral mucosa. Mucositis can cause pain during eating, swallowing and even speaking.
Common symptoms
White or red patches in the mouth
Non-healing sore or blister
Pain in mouth or throat
Swelling or lumps inside mouth
What you can do: Improving your eating when you have mucositis
Tips to improve your eating behavior
Try freezing fruits and suck on frozen fruit pops, fruit ice or ice chips.
Eat soft, creamy foods.
Blend and moisten foods that are dry or solid. Mix them in with soups or sauces, gravies and casseroles.
Puree or liquefy foods in a blender to make them easier to swallow.
Choose lukewarm or cold foods that are soothing.
Drink through a straw to bypass mouth sores.
Eat high-protein, high-calorie foods to speed healing.
Other lifestyle suggestions
Rinse your mouth regularly with a salt, baking soda and water solution to prevent infections. Gargle with a mixture to relieve a sore throat, but don't swallow it.
Your doctor can prescribe a "swish-and-swallow" numbing mouthwash. Ask about this.
Avoid using mouthwashes that contain alcohol.
Foods to avoid
Rough-textured or hard foods
Tart, acidic or salty foods
Spicy foods
Really warm foods or drinks
Crackers and hard-crust breads
Potato chips, pretzels, popcorn and snack chips
Citrus fruit and juices
Tomato juice
Raw vegetables
Sour milk products
Caffeinated beverages
Carbonated beverages
Alcohol
Foods to try
Frozen fruits and vegetables
Ice cream, milkshakes and ice chips
Natural or sweetened yogurts and milk products
Cream soups
Cheeses
Mashed potatoes
Eggs
Custards and puddings
Cooked cereals
Recipes
Oreo Milkshake
Ingredients:
1 pint vanilla ice cream
1 cup milk
8 Oreos
1 tbsp. chocolate sauce
Instructions:
Blend all ingredients together and top with crushed Oreos.
Blueberry-Buttermilk Milkshake
Ingredients:
1 cup blueberries
2 tbsp. sugar
1 pint vanilla ice cream
¼ cup buttermilk
Instructions:
Blend blueberries and sugar until syrupy, then blend with ice cream and buttermilk.
Notes
Contact your physician if:
You want your doctor to prescribe certain mouthwash products.
You are considering using related medications.
You experience unintended weight loss.
References
American Cancer Society
National Comprehensive Cancer Network