Learn about food safety for people with cancer in this guide from The ONE Group (Oncology – Nutrition – Exercise) at Penn State College of Medicine.
What you should know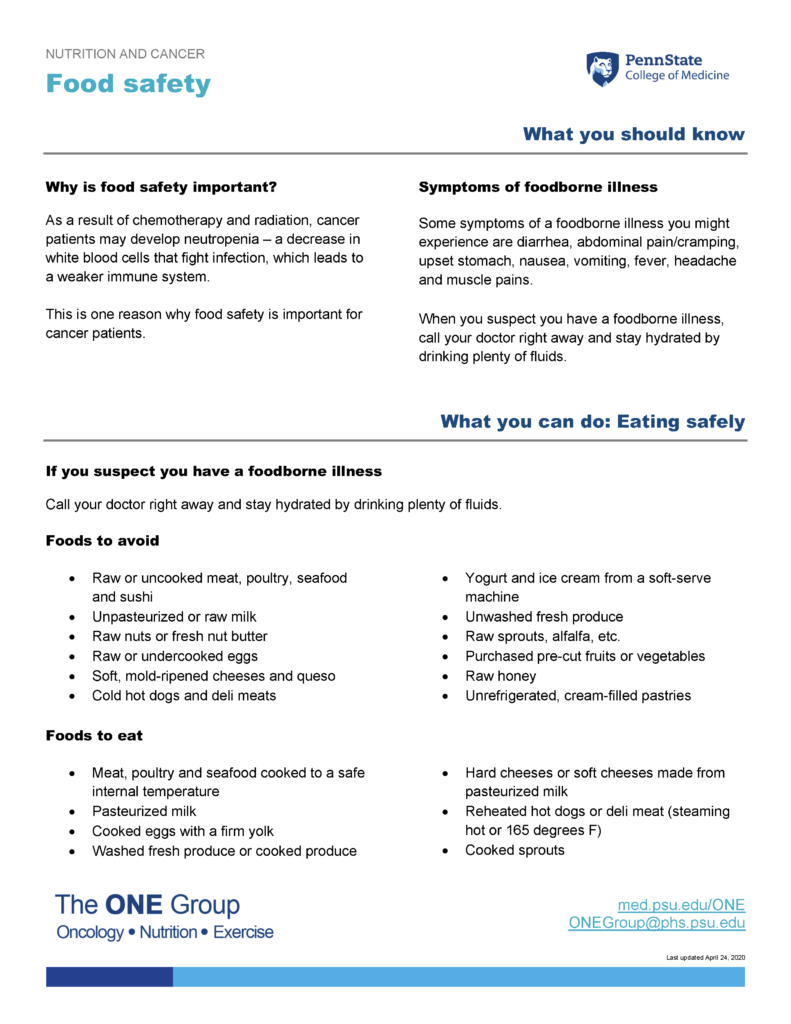 Get a printable version of this guide
Why is food safety important?
As a result of chemotherapy and radiation, cancer patients may develop neutropenia – a decrease in white blood cells that fight infection, which leads to a weaker immune system.
This is one reason why food safety is important for cancer patients.
Symptoms of foodborne illness
Some symptoms of a foodborne illness you might experience are diarrhea, abdominal pain/cramping, upset stomach, nausea, vomiting, fever, headache and muscle pains.
When you suspect you have a foodborne illness, call your doctor right away and stay hydrated by drinking plenty of fluids.
What you can do: Eating safely
If you suspect you have a foodborne illness
Call your doctor right away and stay hydrated by drinking plenty of fluids.
Foods to avoid
Raw or uncooked meat, poultry, seafood and sushi
Unpasteurized or raw milk
Raw nuts or fresh nut butter
Raw or undercooked eggs
Soft, mold-ripened cheeses and queso
Cold hot dogs and deli meats
Yogurt and ice cream from a soft-serve machine
Unwashed fresh produce
Raw sprouts, alfalfa, etc.
Purchased pre-cut fruits or vegetables
Raw honey
Unrefrigerated, cream-filled pastries
Foods to eat
Meat, poultry and seafood cooked to a safe internal temperature
Pasteurized milk
Cooked eggs with a firm yolk
Washed fresh produce or cooked produce
Hard cheeses or soft cheeses made from pasteurized milk
Reheated hot dogs or deli meat (steaming hot or 165 degrees F)
Cooked sprouts
Food safety tips
Wash your hands and surfaces often. Wash your hands with warm water and soap for 20 seconds before and after preparing food.
Keep raw meat and poultry separate from ready-to-eat foods.
Don't reuse the same rag. Rags can hold bacteria; instead, wipe the kitchen surface with disinfectant wipes.
Don't cross-contaminate. Make sure to store raw meats away from cooked food.
Refrigerate food right away to reduce bacterial growth. To prevent a foodborne illness, make sure your refrigerator is set at 40 degrees F or below.
Chill perishable foods within two hours.
Look at the expiration date. If an item is expired, throw it out.
Cook foods to a safe internal temperature (See below.).
Safe minimum internal temperatures
Following are the safe minimal internal temperatures for cooking meat and poultry:
145 degrees F – Beef, pork, lamb and veal (with a three-minute rest time)
160 degrees F – Ground meat
165 degrees F – All poultry
Questions to ask your doctor
Am I at increased risk for foodborne illness? How long will this risk last?
What steps should I take to prevent foodborne illness?
Which foods require special preparation to prevent foodborne illness?
What treatment do you recommend for my foodborne illness?
How can I prevent dehydration?
Is there anything else I should be asking?
Notes
References
Cancer.net from ASCO
Cancer Nutrition Consortium
Minnesota Oncology
Stanford Health Care