Learn about managing anxiety for people with cancer in this guide from The ONE Group (Oncology – Nutrition – Exercise) at Penn State College of Medicine.
What you should know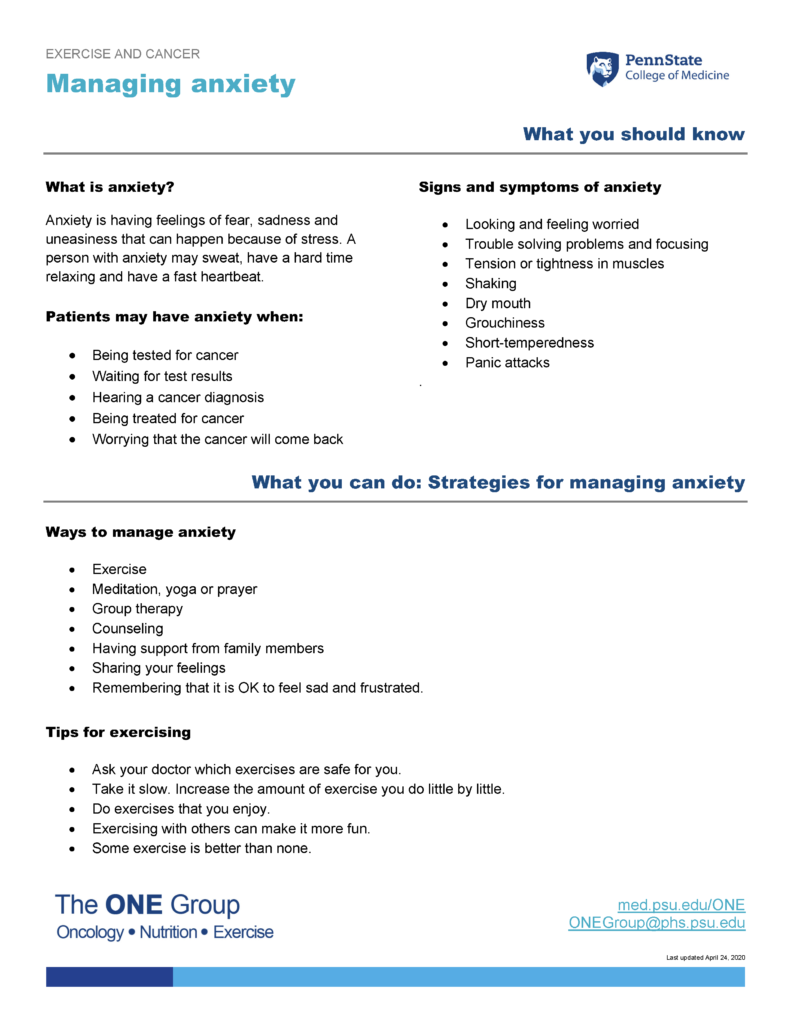 Get a printable version of this guide
What is anxiety?
Anxiety is having feelings of fear, sadness and uneasiness that can happen because of stress. A person with anxiety may sweat, have a hard time relaxing and have a fast heartbeat.
Patients may have anxiety when:
Being tested for cancer
Waiting for test results
Hearing a cancer diagnosis
Being treated for cancer
Worrying that the cancer will come back
Signs and symptoms of anxiety
Looking and feeling worried
Trouble solving problems and focusing
Tension or tightness in muscles
Shaking
Dry mouth
Grouchiness
Short-temperedness
Panic attacks
What you can do: Strategies for managing anxiety
Ways to manage anxiety
Exercise
Meditation, yoga or prayer
Group therapy
Counseling
Having support from family members
Sharing your feelings
Remembering that it is OK to feel sad and frustrated
Tips for exercising
Ask your doctor which exercises are safe for you.
Take it slow. Increase the amount of exercise you do little by little.
Do exercises that you enjoy.
Exercising with others can make it more fun.
Some exercise is better than none.
Possible exercises you can try
Walking
Hiking
Cycling
Swimming
Any aerobic exercise
Note: Aerobic exercise for 30 minutes, three times weekly, has been specifically documented to improve anxiety among people living with and beyond cancer .
Where can I find more information about aerobic and strength-training exercises?
If you are interested in starting aerobic and/or strength-training exercises, The ONE Group (Oncology – Nutrition – Exercise) provides videos demonstrating proper form for more than 50 exercises.
Notes
Contact your physician if:
You have thoughts of wanting to hurt yourself.
You have thoughts of wanting to hurt others.
You experience loss of control.
References
American Cancer Society
American Psychological Association
Anxiety and Depression Association of America
Harvard Health
National Cancer Institute