Learn about exercise after cancer treatment in this guide from The ONE Group (Oncology – Nutrition – Exercise) at Penn State College of Medicine.
What you should know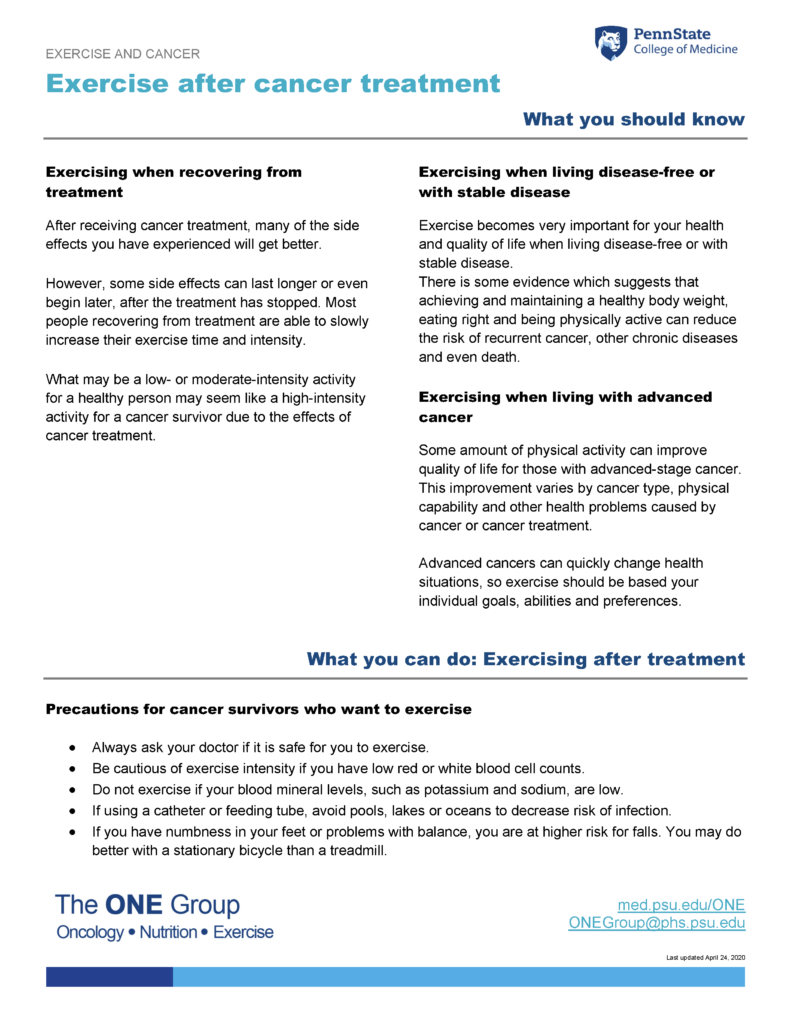 Get a printable version of this guide
Exercising when recovering from treatment
After receiving cancer treatment, many of the side effects you have experienced will get better.
However, some side effects can last longer or even begin later, after the treatment has stopped. Most people recovering from treatment are able to slowly increase their exercise time and intensity.
What may be a low- or moderate-intensity activity for a healthy person may seem like a high-intensity activity for a cancer survivor due to the effects of cancer treatment.
Exercising when living disease-free or with stable disease
Exercise becomes very important for your health and quality of life when living disease-free or with stable disease.
There is some evidence which suggests that achieving and maintaining a healthy body weight, eating right and being physically active can reduce the risk of recurrent cancer, other chronic diseases and even death.
Exercising when living with advanced cancer
Some amount of physical activity can improve quality of life for those with advanced-stage cancer. This improvement varies by cancer type, physical capability and other health problems caused by cancer or cancer treatment.
Advanced cancers can quickly change health situations, so exercise should be based your individual goals, abilities and preferences.
What you can do: Exercising after treatment
Precautions for cancer survivors who want to exercise
Always ask your doctor if it is safe for you to exercise.
Be cautious of exercise intensity if you have low red or white blood cell counts.
Do not exercise if your blood mineral levels, such as potassium and sodium, are low.
If using a catheter or feeding tube, avoid pools, lakes or oceans to decrease risk of infection.
If you have numbness in your feet or problems with balance, you are at higher risk for falls. You may do better with a stationary bicycle than a treadmill.
Frequent exercise is shown to have the following benefits among people living with and beyond cancer:
Reduced anxiety and stress
Reduced depression
Improved cancer-related fatigue
Improved sleep
Improved bone health
Improved quality of life
Improved physical function
In addition, resistance exercise has been documented to be safe for women with and at risk for breast-cancer-related lymphedema.
American College of Sports Medicine recommendations
To address symptoms, do aerobic exercise three times a week and resistance exercise two times a week.
Return to normal daily activities as soon as possible.
After treatment is completed, aim to increase aerobic exercise to at least 150 minutes per week and include resistance exercises at least two days per week.
Where can I find more information about aerobic and strength-training exercises?
If you are interested in starting aerobic and/or strength-training exercises, The ONE Group (Oncology – Nutrition – Exercise) provides videos demonstrating proper form for more than 50 exercises.
Notes
References
American Cancer Society
National Cancer Institute