The background image is Adult woman sitting on sofa testing blood sugar levels.
Did you know stress can increase blood sugar levels?
Dr. Nazia Raja-Khan and her team at Penn State Health and Penn State College of Medicine are part of a national research study called Decreasing Stress in Diabetes (De-Stress) that is exploring how two online stress management programs affect blood sugar levels in adults with diabetes.
The study can be completed entirely online. Compensation is provided.
Explore this webpage to learn more about the De-Stress study and see if you are eligible.
Who can volunteer
Adults 18 and older
Type 1 or Type 2 diabetes for at least one year
Currently struggling to control blood sugar levels (hemoglobin A1c of 7.5% or greater)
Have a device with internet connection, camera and microphone for online program
Additional criteria may apply
What volunteers will do
If you are eligible, you will be asked to complete some of the following activities in this study:
Attend four program sessions on video call
Respond to online surveys
This study will last a total of six months.
Up to $300 is provided to eligible participants.
Keeping volunteers safe
We are taking several steps to keep research volunteers safe. This includes:
Conducting research visits remotely (from home) when possible
Practicing social distancing and using appropriate personal protective equipment (masks, face shields, gloves) during in-person research visits
Screening before all in-person research visits, including temperature checks for all employees and volunteers
Sanitation of all research spaces and equipment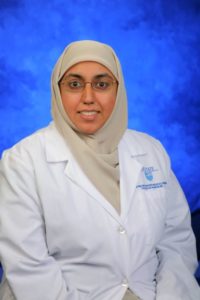 Dr. Raja-Khan is a physician-scientist, clinical endocrinologist and the founder of the Penn State Mindfulness Research Group. Her primary research interests are in the fields of mindfulness, behavioral medicine, diabetes, prediabetes, polycystic ovary syndrome (PCOS) and obesity. She has multiple peer-reviewed publications, and her research has been presented at national and regional scientific meetings.
For more information
If you have any questions or are interested in participating, please contact the study team:
This research has been approved by the Institutional Review Board, under federal regulations at Penn State Health Milton S. Hershey Medical Center and Penn State College of Medicine as IRB #10532.